Skip to Content
55+ Community of Cooperative Living
If you're ready to live a life that's laid-back and stress-free, then our 55+ community at Realife Cooperative at Mueller Gardens in St. Cloud, MN, is the community you need for your active lifestyle. With 50 units available, we're able to accommodate many residents in our 55+ community who all work together to support one another and make the community a better place. Our unique cooperative living community gives you the power to have a say in how things are done in our community, and we offer extensive activities to suit your active lifestyle.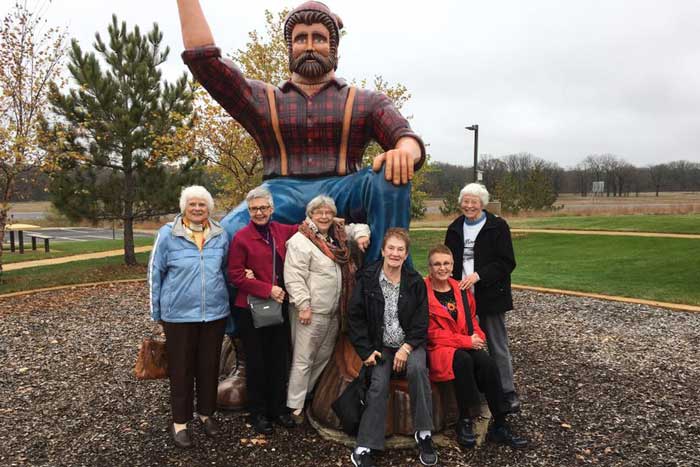 What Is Cooperative Living?
Cooperative living is a form of multifamily homeownership wherein everyone that lives in our community owns a share of it and works to make it better. This isn't a for-profit community; it's multiple people coming together and working with each other for mutual benefit and support. The community is owned and governed by residents like yourself, not a company or corporation looking to increase their bottom line.
Our cooperative 55+ community allows you to own your own home without the hassle. All residents have joint ownership of the community and elect other residents to the Board of Directors, which operates the community. We employ a democratic system, meaning members have equal voting opportunities and status in all elections for the Board of Directors. Our community is also successful because having true ownership of your unit encourages the desire and pride to take care of the community, as well as having a say in the operation of it.
How It Works?
Each resident purchases a share in our common-interest corporation, which creates the equity required for us to secure a mortgage, the expenses of which are shared by residents. Since we're a limited equity cooperative, there are restrictions in place on the resale of the units in order to keep them affordable. The 55+ community cooperative is supported by members' occupancy agreements, membership share purchases, and monthly fees. Under law, our residents are homeowners, meaning you're able to deduct your share of interest and real estate taxes on your tax returns.
How Do I Participate?
If you own a unit, then there are many opportunities for you to take part in making our 55+ community a better place to live. Since many aspects of the cooperative are maintained by our committees, you're encouraged to become a part of at least one committee. Our committees include Grounds, Finance, Library, Garden, Marketing, Kitchen, Men's Pancake Breakfasts, Entertainment, Security, Education, and others, so you're bound to find one that suits your interests.
The Board of Directors is also another way for you to participate. Elections are held within the community to appoint members of the Board. If you have an interest in helping operate the community, you can run for a position on the Board. Even if you don't want to be one of the figureheads of the cooperative, you can still cast your vote to have a concrete effect on the way the community is operated.
If you ever decide that you don't want to be part of the cooperative, you'll simply contact the Housing Manager. The proper documents will be drawn up for you to sign, and then the transaction will be handled by the Housing Manager. It's that simple.
Take part in something that will not only better your life but give you the chance to better others' lives, too. At Realife Cooperative, we embody the concept of community and active lifestyle. We can't wait to welcome you home.
Take the First Step to a Carefree Lifestyle