Skip to Content
55+ Community in
St. Cloud, MN
Ready to live a life that's carefree and exhilarating? Do you want to be surrounded by people the same age as you who are ready to live in peace?
Realife Cooperative at Mueller Gardens in St. Cloud, MN, presents you with the opportunity to embrace a 55+ living community that will cater to your active lifestyle while allowing you to live life unencumbered. Our 50 units offer you extras and amenities you'll love, including access to community features and the ability to stay involved.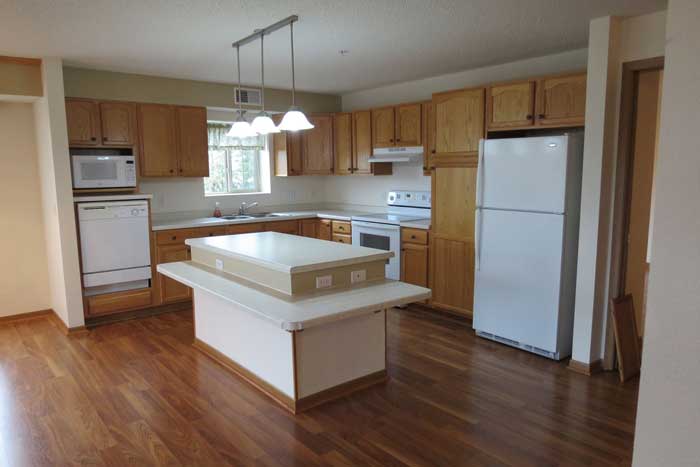 Unit Amenities
Every one of our 50 units at our 55+ community delivers comforts that will enhance your living experience. Our 55+ community's units include individualized temperature control systems, 3-foot doorways, bi-level kitchen islands with drawers and cabinets, dishwashers, master baths with step-in showers, and comfort-height toilets. A patio or deck is attached to every unit, and you can enjoy large windows that allow plenty of sunlight in. There's a 4′ x 6′ external storage closet with each unit, and each unit includes telephone services, plus internet and cable. If you ever decide to sell your unit, you just have to fill out some forms, and we'll take care of the rest.
We offer 1 and 2-bedroom units with your choice of either 1, 1.5, or 2 baths. Blinds and appliances are furnished for each unit, and there are numerous cabinets in each kitchen, plus a pantry. Every unit is equipped with electrical outlets, phone jacks, and extra storage cabinets, and there's a Lazy Susan in the bottom-corner cabinet.
Community Features
Beyond the personal features that come with your unit, you'll have access to a wide variety of our 55+ community amenities, too. There's a car wash bay in the garage onsite and a community great room with a full kitchen that can be reserved at no cost for parties and gatherings. Our lounge is home to a beautiful gas fireplace, and there's a library onsite that's fully stocked with books, magazines, videos, puzzles, and more. To supplement your active lifestyle, we have a wellness room equipped with treadmills, bikes, rowing machine, step machine, weight machine, and TV. If you enjoy woodworking, there's a woodshop and craft room available for your pleasure. Vegetable and flower garden areas are available, and there's a community patio with 2 gas grills for use. There's also a guest suite available for $50 a night. Heated parking, two elevators, and 6 acres of land are also popular features.
At Realife Cooperative 55+ community, we embrace your active lifestyle. In addition to our fitness room, we offer community exercise activities, including yoga classes 3 times a week. We also have educational opportunities, so you can grow your mind while enjoying a relaxed life.
The Realife Perks
Residence at our cooperative living community comes with a host of perks and benefits that you'll struggle to find elsewhere. We're an active community that loves to socialize, exercise our bodies and minds, and have fun. Benefits include:
Exercise classes offered three times a week
Convenient location next to clinics, shopping, and golf courses
Community managed, operated, and run by our residents
Pet-friendly for up to two pets
Community events, including cards, games, gardening, potlucks, holiday celebrations, and more
Woodshop and craft room
Wellness Room with treadmills and bikes
Library with community jigsaw puzzle
Emphasis on exterior design and landscaping
Our Committees
With all of our amenities and features, we are a cooperative community that relies on everyone to pitch in and do their part. While it's not strictly required, you're strongly encouraged to take part and volunteer on one of our committees. Committees specialize in everything from the gardens to decorating to finance to marketing. With all of our options, there's bound to be a group you'll love to be a part of. Alongside our committees, we have a Board of Directors filled and voted into office by residents.
If you're looking for a 55+ community that offers peace and comfort, then consider purchasing a unit at Realife Cooperative at Mueller Gardens. Realife luxury is waiting for you.
Take the First Step to a Carefree Lifestyle